CMS Official Affirms AAMA Positions on Meaningful Use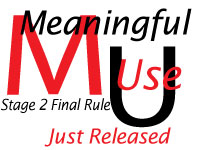 On August 23, 2012, the Centers for Medicare and Medicaid Services (CMS) issued a final rule on Stage 2 of the Medicare and Medicaid Electronic Health Record (EHR) Incentive Program. The CMS decided that credentialed medical assistants--including CMAs (AAMA)--in addition to "licensed health care professionals" would be permitted to enter medication, laboratory, and radiology/diagnostic imaging orders into the computerized provider order entry (CPOE) system. The CMS rules for Stages 1 and 2 of the Incentive Programs are final, and proposed rules for Stage 3 were issued by CMS on March 20, 2015.
Stay abreast of recent developments, and their implications for medical assistants, with materials from AAMA CEO and Legal Counsel Donald A. Balasa, JD, MBA, click on the click below.